Reading Time: 4 minutes
Twitter is generally regarded as money losing website of very few words by most experts; however, the popularity of the same has grown many folds in the recent past. It has over 10 million users and the number is growing at a staggering rate. You would have certainly come across a few who have actually figured out ways to earn money using the twitter platform. Those who are still thinking if this is possible, the answer is yes. Here are a few ways that can help you make money on Twitter.
Ways to Earn From Your Twitter Accounts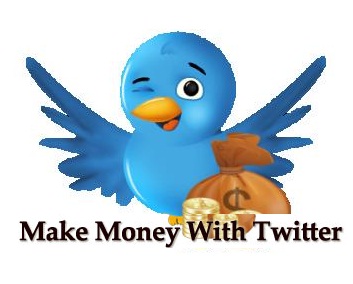 Followers
The first and most important thing that you would need to do is create a long list of followers. However, why would somebody follow you? The case is a lot different in case you are a celebrity; however, options are till available if you are not and can get still get a long list of followers. Firstly, you must select a field or niche and create a related account. This can be associated to a general interest or the area which you are targeting for advertisement. An example may include baseball if you are targeting USA or wildlife for South Africa among others. Start following others and keep on tweeting useful news and information or interesting facts that has the ability to attract followers. The process would certainly consume a bit of time and requires patience. Once you have a list of followers you can do the following.
Turning Followers into Creators
Twitter followers can be a great place to market your products and services. You can use the platform to generate a revenue outside the website as well. All one need to do is get a few visitors and look for ways to turn them into creators. The strategy is used by a few new startups including Threadless. The organization has millions of followers who submit designs and slogans to the community. Other followers than vote for the ones they like. The best design is selected and printed for the buyers. The winner gets $2000 as reward money while each tee is sold for $18. The voters generally hang around to buy the piece when it is available in the market. There are other buyers as well who might be interested. The greatest way to get more followers and converting them into creators include
Get Listed: Using the list feature of Twitter, you can create a list of a particular domain say business owners in New York City. Anybody interested in the same can visit the list and follow the individuals.
Follow Others: This works up to a certain extent. Whenever you follow somebody, the person gets a mail related to the same and chances are that he would follow you back. However, if you are following too many people, it may appear that you are self promoting yourself. People might not follow you back in the scenario.
Start a Conversation: The tweets are displayed to everybody who is following you and initiating an interesting discussion can help engage the potential clients.
Retweet: If you are not clear on what to tweet, simply retweet the interesting ones.
Use Twitter as Platform to Sell Products and Services
Twitter can also be used as a platform to sell your products and servicers and generate money in turn. Here are a few ways of advertising about the same.
Put an Add at the End of Message
Though Twitter allows messages of 140 character length, you can still add a small advertisement at the end of each tweet.
Alternatively, you can send out a fixed number of tweets before sending out an advertisement about the related product or service.
Pay Per Tweets
If you have a long list of active followers, you can also look for organizations that are willing to pay you a good amount for every tweet made by you. The amount you get per tweet depends on the number of followers you have and their location among others. A few websites also allows you to add an affiliate link in your tweet and you get a commission on every purchase made by a visitor using the link.
Get Leads
Twitter provides a great platform for you to look for probable clients who would be interested in your services. Amazingly, a number of those looking for a particular service post the requirements on twitter. All you need to do is search for the keywords on twitter search and reply to the tweet posted.
Background Space
The background space of your twitter profile can also be used as AdSpace for the products and service you are interested in. All you need to have is a long list of actual followers and getting in touch with the advertisers can provide you with revenue.
Money Making Schemes on Twitter
Twitter also provides a number of money making schemes like Magpie. These schemes are completely automated and are proven ways of making money.
Let us know through comments , your own ways of making money from twitter?  Any special tricks your are using to generate income?