Reading Time: 4 minutes
If you have your own blog you must be very well aware of Google Adsense which is, with no doubt, world's largest ad publishing network with lots of users and one of the easiest ways for bloggers to monetise their hard work. But Adsense does not always work out for everyone in the blogosphere, and lately the rejection rate for ad publishers has been very high in the Adsense market. But smart bloggers do not need to worry because there are a whole lot of other earning opportunities available that will help you earn bucks through your blog.
So hold tight on your seats and closely attend to your screen while we suggest some of the easiest and the most effective ways to make money from your blog without using Google Adsense.
5 Ways to Make Money Without Using Adsense Ads On Your Site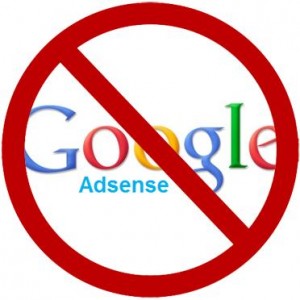 1. Sell Ad Spaces on your Blog
One of the easiest ways to start earning from your blog is selling a banner space for advertisement on your pages. Now, who will be interested in buying ad space on your blog depends on the category of your blog. Like if your blog is specialized in gadget reviews and tech news, your prospective ad space buyers will be high-end product marketers who would like to attract the attention of your visitors to their products. The money you make through this method will be substantially higher than what you make through Adsense program. An "Advertise Here" banner on your blog or convincing people through social media or forums will get you started. It should, however, be noted that this method works best when you have a sufficient number of visitors to your site daily and your content is 100% original and unique.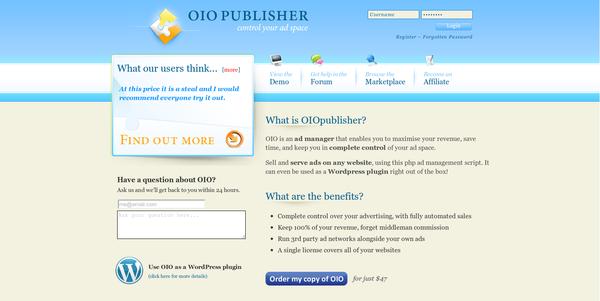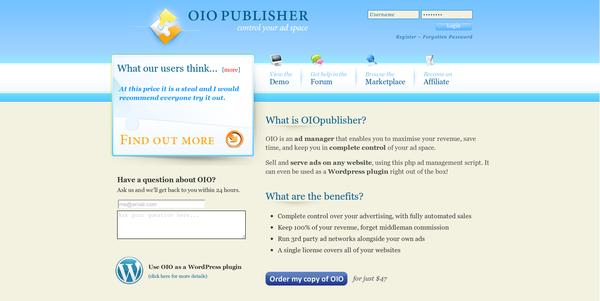 One of the best direct ad selling plugin is  OIO Publisher. You will have full control of your adspace and best part is, you will not have to share any revenue generated from ad space selling with any third party vendor as in the case of BuySellAds.
OIO publisher is offering 10% discount this winter. Use coupon code: WINTER12-GET10OFF
2. Use Adsense Alternatives
If you are looking for content and context sensitive ads as those offered by Google Adsense, there's a wide variety of online advertising networks to choose from. Googling "Adsense Alternatives" will give you a list of alternatives, but the best and the most successful ones include the following:
3. Write Paid Reviews on your Blog
As mentioned earlier, marketers are looking to target the audience of your blog. There are a lot of people looking for websites to review their products or services. These reviews allow the company to spotlight their products which eventually generates traffic on their own website. This is considered to be one of the most effective forms of advertising as it creates brand credibility, link popularity and invites familiar and interested audience towards their website. You can find these types of opportunities through social media and on online forums. If you are successful in finding someone looking for a paid review you'll be able to earn much more than what you initially made through Adsense. Also, remember that this methods works great if you are an expert in your field and your blog has credibility among its audience for quality material.


Sign Up For SponsoredReviews.com
4. The Use of In-Text Ads
In-text ads have recently gained a heavy popularity because of their ease of use and effectiveness. These texts comfortably hide within your blog content through the use of backlinks or referral links. Only ads relevant to your blog content are displayed so that they may capture the attention of your audience. You may utilize in-text ads through services like Infolinks and ClickSor. These ads usually earn revenue on pay per click basis and can prove to be a great earning option for someone looking for creative in-text ads and keep their blog banner free.
5. Affiliate Marketing
Through Affiliate Marketing you promote the products of marketers and entrepreneurs and you get paid not for advertising, but you get a good commission for each unit of product you sell. The revenue you earn may range from 20 to 75 percent depending on the financial strength of your client. If you are getting traffic on your blog, you can easily employ affiliate programs such as Amazon, ClickBank and CommissionJuction. This method also has an ethical implication of promoting only those products that have high brand recognition, market presence and delivers exactly what it promises to its customers. Inferior quality low-end products should not be promoted; because no matter how much the commission you are earning, it is not more important than your online credibility as a high quality writer.
Once you've acquainted yourself with the ways of making online money without using Google Adsense, the next question on your mind is probably "Will I earn hefty amount of money? Or "How long is it going to take to do so?" So let me just clarify that blogging is not for those who are looking for a fast way to make money. It requires your creative efforts, ideas and unique content to make a mark. Hence it takes time and hard work. But what we have discussed here are simple smart ways that will surely help you get started with making some money with your very own blog without the use of Google Adsense.